Why And How Add Fiber To Your Diet?
It's a given on a diet isn't it? You hear it all the time. Add more fiber! Drink more water! But Why and How?
What Is Fiber?
Fiber comes from plants, it's part of what we consume when we eat our fruit and veggies and other plant based food items, provided the fiber hasn't been stripped out by processing. It is also known as dietary fiber or roughage. There are two kinds of fiber, soluble and insoluble.
Insoluble fiber is the part of plant foods that your body cannot digest. It provides bulk in your intestines and helps your body in two ways. It keeps you feeling full for longer and along with water, helps move food on down through the digestive system so you are less likely to suffer from constipation.
Soluble fiber actually dissolves in water. Recent research associates it with reduced stroke risk, improved heart health and lower cholesterol levels, among other things. It can stop the stomach from emptying as quickly as normal, keeping you feeling full for longer.
Benefits Of Fiber
Both soluble and insoluble fiber keep you feeling full for longer;
soluble fiber can help with heart health, reducing stroke risk  and with lowering cholesterol levels;
insoluble fiber helps prevent constipation (along with water – keep hydrated);
Both soluble and insoluble fiber can act as what is called a prebiotic, that is, they provide a food for the good bacteria in your intestine, again helping prevent constipation, among other things;
Fiber is low in calories (depending on what it came from, of course) as it is not digestible, but if you eat high calorie food you will be getting calories from that, as well as the fiber.
How Much Fiber Do I Need?
The amount of fiber you need varies by person, by your weight and by your gender, among other things. Some people have a very fast digestive system that food moves through very quickly. Others have a slow system. The rate at which your food passes through your system can also depend on medication and the type of food you normally eat. Current recommendations are for about 25 grams of fiber daily for women and about 38 grams of fiber daily for men but most people get a lot less than this. If you are thinking about how to get more fiber in your diet, you need to take it slowly at first because adding a whole load of fiber at once may have unwanted side effects such as gas and bloating.
How To Get More Fiber In Your Diet
Naturally
The natural way to add fiber is to eat a fiber rich diet! This means increasing your intake of vegetables, fruit, nuts,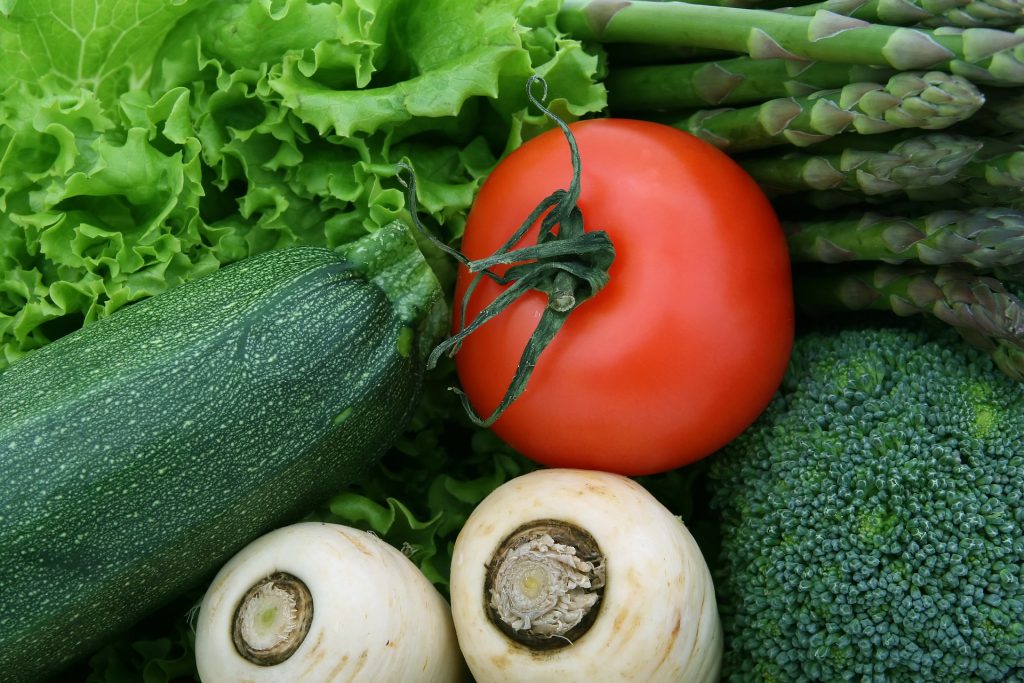 beans and lentils, etc. One easy way to do that would be to add red lentils to any soups or stews you make instead of thickening them with flour. You could also "eat your way" through the vegetable garden, using green vegetables ranging from artichokes to zucchini, by way of broccoli, brussels sprouts, celery and cabbage. For those on a normal or "healthy diet", they could also add whole grain bread, cereal, pasta or rice. (No flour, cereal, bread, pasta or rice on a low calorie or ketogenic diet.) Many fruits also contain fiber (NOT bananas) but they may also have high calorie contents too because of the fruit sugar they contain. A medium apple for instance has about 95 calories in it. (Very little fruit is allowed on a ketogenic diet.) Don't worry about your vitamins though, as your green veggies have plenty of those. So get those salads into you. And if you go to work each day, taking a food container with chopped up salad in it, such as celery and lettuce is a great way to add more fiber, while reducing the desire for a trip to the vending machine for a sugar bar!
You may also enjoy adding fermented vegetables, such as Kimchi and sauerkraut to your meals, to provide taste and a source of probiotics to your diet. Live culture yogurt is also a great dietary addition for probiotics.
Raspberries are one of the highest fiber fruits, surprisingly and a cup of those contains only 65 calories, a real win for weight loss on a low calorie diet. Dried fruits, such as prunes not only contain high amounts of fiber but also a chemical that helps promote good bowel movements. This is also present in apple and pear juice. Again, though, these would be high in calories.
The natural fiber from wheat and oat grains is often stripped away and sold separately as bran. This can be added to soups and stews to thicken them and even to home made bread and cakes or sprinkled over salads and other foods. They each have a nutty taste.
Supplements
There are plenty of high fiber supplements available at reasonable cost to increase your fiber intake with no added calories. It is extremely important to drink lots of water with any fiber supplement, otherwise the fiber may clog you up worse than before, by absorbing moisture from your gut. And anyone who has had difficulties swallowing or who has narrowing of the food tube should NOT take these. The types of fiber available include psyllium husks (also known as ispaghula) and apple fiber. These are all readily available as powders or even as capules. Some commercial preparations add flavoring to psyllium husks to make them more palatable. You can do this yourself by adding a little lemon juice to the glass before adding the psyllium husks and water.
Probiotics also count as supplements. These capsules contain large numbers (in the billions) of bacteria to increase the numbers of "good" bacteria in your system that help with health and digestion. Taking probiotics is also useful after having a course of antibiotics which can wipe out your friendly gut bacteria. Remember to take these capsules with cold water. They contain live bacteria and taking them with a hot drink, like tea or coffee could wipe them out before they even reach your gut!
Laxatives and Suppositories
The final option, if you really "can't go" is to use a laxative, which brings about a bowel action or softens the stool to make it easier to pass or to use a suppository, which is inserted into the back passage to soften the stool so it can be passed. These should NOT be used where nothing is passing, not even gas or where there is abdominal pain or any suspicion of a blockage or the person potentially has appendicitis. In these cases consult your medical adviser urgently.
Diet High In Fiber
If you need a diet high in fiber, check out the nutritional information available on food packaging these days. You may find that the best foods for your preferred diet are not that high in fiber but by adding a little of these different high fiber foods to your diet throughout the day, you can put more fiber in your diet with only a little additional effort.